I know that there's a PC Fair in Kuala Lumpur this weekend and I always feel that it is high time for me to change from the film-based camera to a digital based camera. I also realized that since I am taking the first step into shooting digital, I don't think I would want to skip to having a more high-end camera like Nikon as I've yet to get a feel on using digitally as well as mastering the basics of digital photography.
It's a cool thing that I can get that because my favorite one is composing wide-screen style images so that it will appear. Another photography feature which I am very interested with is shooting in natural light levels. The main reason is that you cannot replicate the realism of a scene with the use of artificial lights.
The Zeiss lens remains the only lens that has the biggest aperture feature which is about F0.7, if I am not mistaken.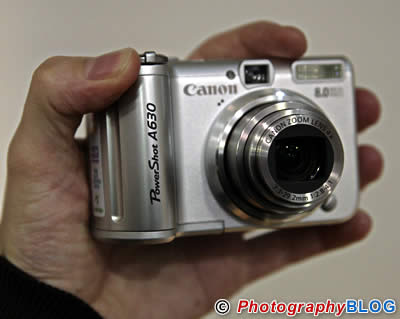 Today
I had to return a trolley which I borrowed from dad's friend as I needed it to move my equipment to the new house last week. So, his subordinate, also a friend of mine came over to pick me up to have meals and then going over to Subang Jaya for a meet and returning the cart.
My dad's friend was looking for a all-in-one printer that can copy, scan and fax as well. He asked me to do some research and then I came out with a few models that can fit his criteria and budget. Then he mentioned to me about his neighbor recommending him to get Brother printer as it fit his criteria and his budget - ultimately, he decided to go for the non-fax model as faxing was deemed non-essential, at the price of $199, and it has the highest DPI of 6000 X 1200, with a PPM of up to 27. The printer beats Samsung and HP hands down.
It was after 12.30 when I let my friend finish his work before we went back to Kuala Lumpur for lunch and then going to the PC fair. Quite a bad jam as it's half day for some who are working and particularly those who wanted to go to the fair as well.
I've been to the fair many times before, scouting for computer components and bought this notebook, which I am having right now in the previous round in April. The next one will be held in December, which I would go, but do not know what to get. I might have the money to buy something else...maybe printer, a sound system...no idea really.
Getting The Camera
Canon and Olympus were the final two choices in terms of brands in which I'd be getting my camera. But I decided on Canon as I did most of my research on that brand - specs, pricing, features and etc. My selection was either the A710s, the A630 and the A640. I thought the A710 is quite cool, but it does not have the flap that I liked as it can allow me to view my shots without looking at the finder. Given of the cost vs quality balance, I finally went for the A630.
The real problem though was the transaction problem. Since I am paying half by cash and half by card, the participating bank of my card, Citibank does not allow me to have the EPP - installment payment scheme because of the condition of minimum $1000. The merchant also voiced this concern to me. But it was the only bank that has the EPP. SCB was a non-participating EPP scheme bank.
I actually consulted the bank's customer support dept. and they said okay, but this was contradicting to the bank's condition of the EPP. The merchant was right though about the problem with Citibank. I thought of converting to a EPP after a single swipe pay, but I was told that there will be a 9.8% conversion charge for that. That's it really. I told them to swipe one shot and pay the balance unevenly, depending on the amount I can afford.
Flexibility is a problem here really.
I was about to finish my round when dad's best buddy called and said he'd be coming down for the fair at the insistence of his wife, who has yet to see the fair. She has seen the Singapore fair, but not the KL fair. Fine. We waited for them to come by LRT, and took them there.
I met my friend Lydia from Siemens - whom I always meet for lunch with Alvin - while I was taking my dad's friend and his wife for the printer which he was very interested with.
So there's dinner at Old Town before I went back home. Back home, I was quite excited and I had to spend some time tinkering and understanding the camera's operation and settings. I really wanted to use widescreen and natural light in my shots. Cool dude